3mm Cable Display System – Stainless Steel / Overview
The 3mm (1/8") diameter Stainless Steel Cable Display System is exclusively made of stainless steel and intended for use in both indoor or outdoor installations. This is a robust and heavy-duty cable suspension system, capable of effectively mounting great loads and can be used in an almost infinite number of displays or basic suspension applications. Extensive range of components and accessories ensure complete design flexibility, enabling you to create an instant presentation by suspending glass shelves, showcases, cabinets, garments, logo/graphic panels, signage and banners.
The system is used for creating a wide range of applications:
Architectural Paneling – suspended decorative or light-diffusing paneling.
Art/Picture Hanging – suspended artwork on aluminum rails ceiling or wall mounted.
Decorative and Product Shelving – suspended lit or non-lit flat glass, acrylic or wooden shelves on walls or inside cabinets or showcases and suspended angled or sloped shelves.
Facility Maps and Office Directories – suspended and wall mounted custom office directories, facility maps, messaging boards and specialty signage.
Literature Displays – suspended literature dispensers and literature sloping shelves for displaying catalogs, magazines, brochures, books, newspapers, postcards, etc.
Lit and Non-lit Window Displays – suspended LED light poster displays, easy access poster frames and small and large format printed graphics and banners; low voltage lighting can also be integrated into this system.
Merchandising Displays – suspended glass shelving, showcases, aluminum poster frames or aluminum rails to hold fabric, heavy-duty hanging rails to hold garments, etc.
Signage and Logo Panels – suspended and wall-mounted custom signage, logo panels, decorative screens, posters, vinyl banners, large format graphics, etc.
Showcase Displays – suspended custom lit or non-lit acrylic, glass or wooden showcases and merchandisers.
Suspended Partitioning – suspended light-weight decorative fiberglass or tempered glass panels and screens.
Visual Displays – suspended and wall mounted info/posters displays, graphic panels, product displays, framed presentation displays.
Benefits
Easy to Install

Extensive Range of Components

Limitless Combinations

Longevity and Durability

Minimalist Design

Modularity

Quality and Strength

Re-Configurable

Sleek

Streamlined

Versatility

Unobtrusive
Applications
Art Presentations

Banner Displays

Decorative Screens

Decorative Shelving

Graphic Panels

Illuminated Graphics

Literature Displays

Office Directories

Partitions and Dividers

Poster/Information Displays

Product Shelving and Showcases

Suspended Signs
Institutions
Art Galleries and Museums

Banks and Building Societies

Corporate Offices and Receptions

Domestic Interiors

Health Clinic and Hospitals

Hairdresser and Beauty Salons

Hotel Lobbies

Libraries and Schools

Malls and Retail Outlets

Restaurants

Showrooms and Exhibitions

University and College Campuses
Display Solutions & Ideas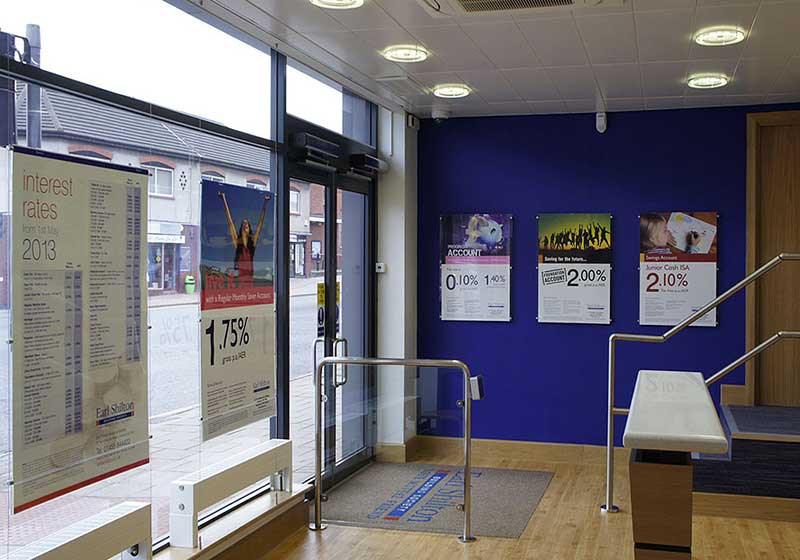 – cable suspended poster information displays for walls and windows. Provide a quick and easy way to change information.
– ideal for displaying collectibles, merchandise and promotional products in windows, inside glass cabinets, or interiors.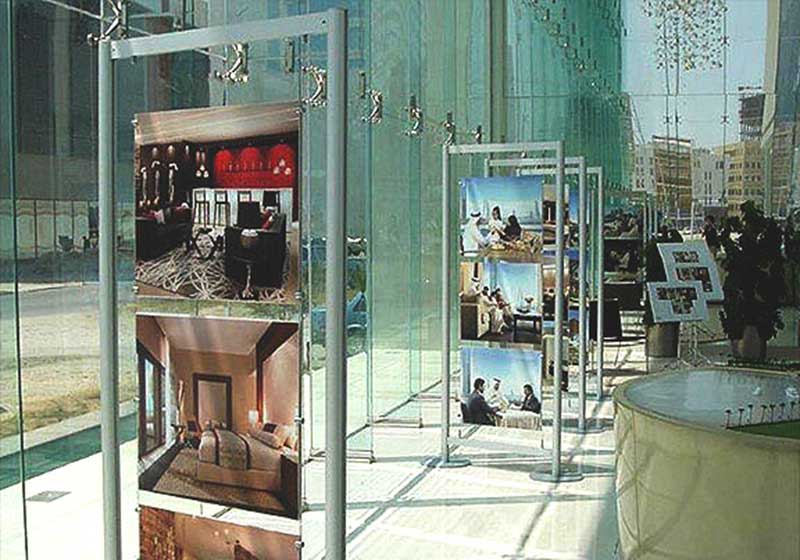 – create an instant floor-standing presentation to display signs, posters, literature, large format graphics, or merchandise.