6mm Rod Display System / Components
Rods & Fixing Components
6 mm Rod Display System comes in a variety of modular components such as rods, top/bottom rod fixings, wall fixings, panel/shelf support fittings, and other finishing components. Use for standard ceiling-to-floor, wall-to-wall suspended applications, or in other special configurations. Standard threaded rod length is 1.5m (4′ 11-1/16″) and 0.5m (1′ 7-11/16″). Rods can be adjusted — joined together for longer lengths or shortened in place during installation. Rods are also available in 1m (3′ 3-1/32″) and 0.5m (1′ 7-11/16″) with non-threaded ends for wall mounted application.
*Rod Fixings only — use with 6mm rods. Sold separately.
With a male thread at one end and a female at the other, the rods allow to be screwed into the top fixing or joined together to make longer lengths. Once screwed together the rods look like a continuous rod. Cut the rod with a hack saw at the bottom to achieve the overall required length.
Fix the support rod back to wall using RP rod support then cut rod to required length and attach it to a vertical suspended rod with RS05, or to a vertical suspended cable with CS05. Use only to stabilize the loaded cables or rods — not intended as a weight support structure.
Use WM11 or RS03 fixings to mount 6mm rods onto wall to create stylish interior signage and wall displays. Use with RG01 supports to hold panels between two horizontal rods, or with hook-on acrylic pockets — just insert your print and hook on in the desired position, easy to change for displaying all types of information.
Panel & Shelf Supports
Supplied in a range of single and double sided clamp supports for panels and shelves, top panel supports for overhead signs, top/bottom supports for front mounted panels, multi-position swivel supports for angled presentations, supports for wooden shelves or display cases, as well as picture hooks and supports for hanging rails and rods. Available in standard sizes to support 1/4″, 3/8″ and 1/2″ thick panels.
Standard Panel Supports & Shelf Supports
Multi-Position Panel/Shelf and Rod Supports
Adjustable to any angle. Can be locked into position.
Specialty Supports
Use for mounting panels with holes, horizontal rods, picture frames or any item fitted with P02 boss.
Installation Accessories
Supplied in a range of components and accessories such as aluminum rails/tracks for standard ceiling-to-floor or wall-to-wall rod suspended applications, wall brackets, quick-fit brass toggles, power connectors and isolators, decorative support plates, etc.
Suspension Rails/Tracks, Wall Brackets & Toggles
MDB
---
Triangular Wall Bracket
*Tracks are available in 4, 6, or 8 feet length. An Oversize Handling & Freight Surcharge/Fee per order or shipment will be applied on all items 84" or longer.
Acrylic & Glass Accessories
Everything you need to display posters, photos, brochures, catalogs, magazines, collectibles, and more. Available in a wide range of styles and sizes to suit any display requirements. Choose from standard pre-fabricated items or request custom fabrication to meet your specific display needs.
Display Solutions & Ideas
– incredibly bright, slim acrylic poster frame with glowing edges. It will make your window or wall displays stand out.
– cable suspended poster information displays for walls and windows. Provide a quick and easy way to change information.
– cable/rod suspended or wall mounted displays for brochures, catalogs, magazines and other promotional materials.
– ideal for displaying collectibles, merchandise and promotional products in windows, inside glass cabinets, or interiors.
– overhead directional signs, directories, facility maps, logo panels, and other specialty signs suspended on cable/rod system.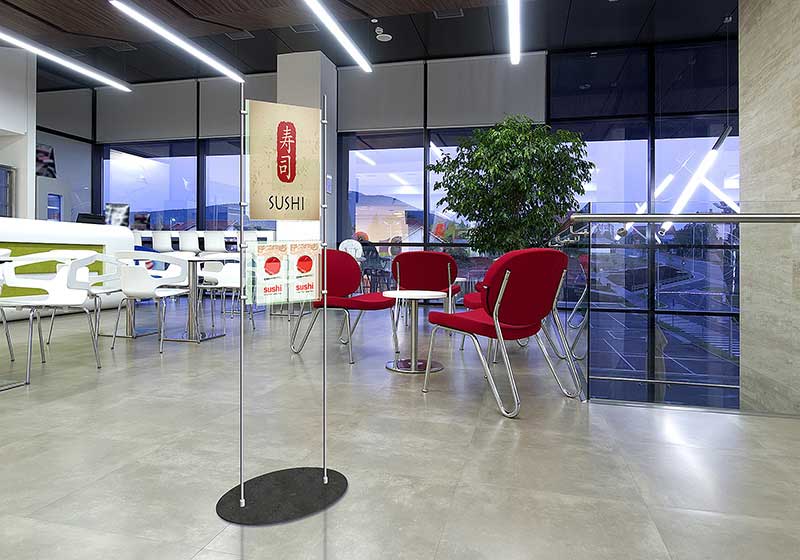 – create an instant floor-standing presentation to display signs, posters, literature, large format graphics, or merchandise.