Custom Acrylic Frames for Large Format Posters and Photographs
We provide acrylic poster frames and display panels in both standard and custom sizes. All frames and panels are precision laser-cut and have an exceptional polished edge quality. They can be fabricated in a range of shapes and sizes to match your ultimate design concept.
Depending on your requirements, we will fabricate acrylic frames and panels in clear, non-glare, frosted, color, or satinice finishes. Other specialized acrylic product such as marker–board, UV filtering, or impact resistant are also available. We use only high-grade acrylic manufactured by top brand companies such as Acrylite®, Acrylex®, Plexiglas®, etc. We fabricate our acrylic frames and panels in sizes up to 48" x 96".
Our acrylic frames and display panels can be both mounted to walls on standoff supports or suspended on cable/rod systems. They have a distinct modern appearance and are easy to install and update. The wall mounted acrylic frames/panels come with quality architectural stand-off hardware available in 1/2", 5/8", 3/4", 1", or 1-1/2" diameters. Standoffs are supplied in a variety of finishes such as satin or polished chrome, clear or satin anodized, brushed nickel or stainless steel.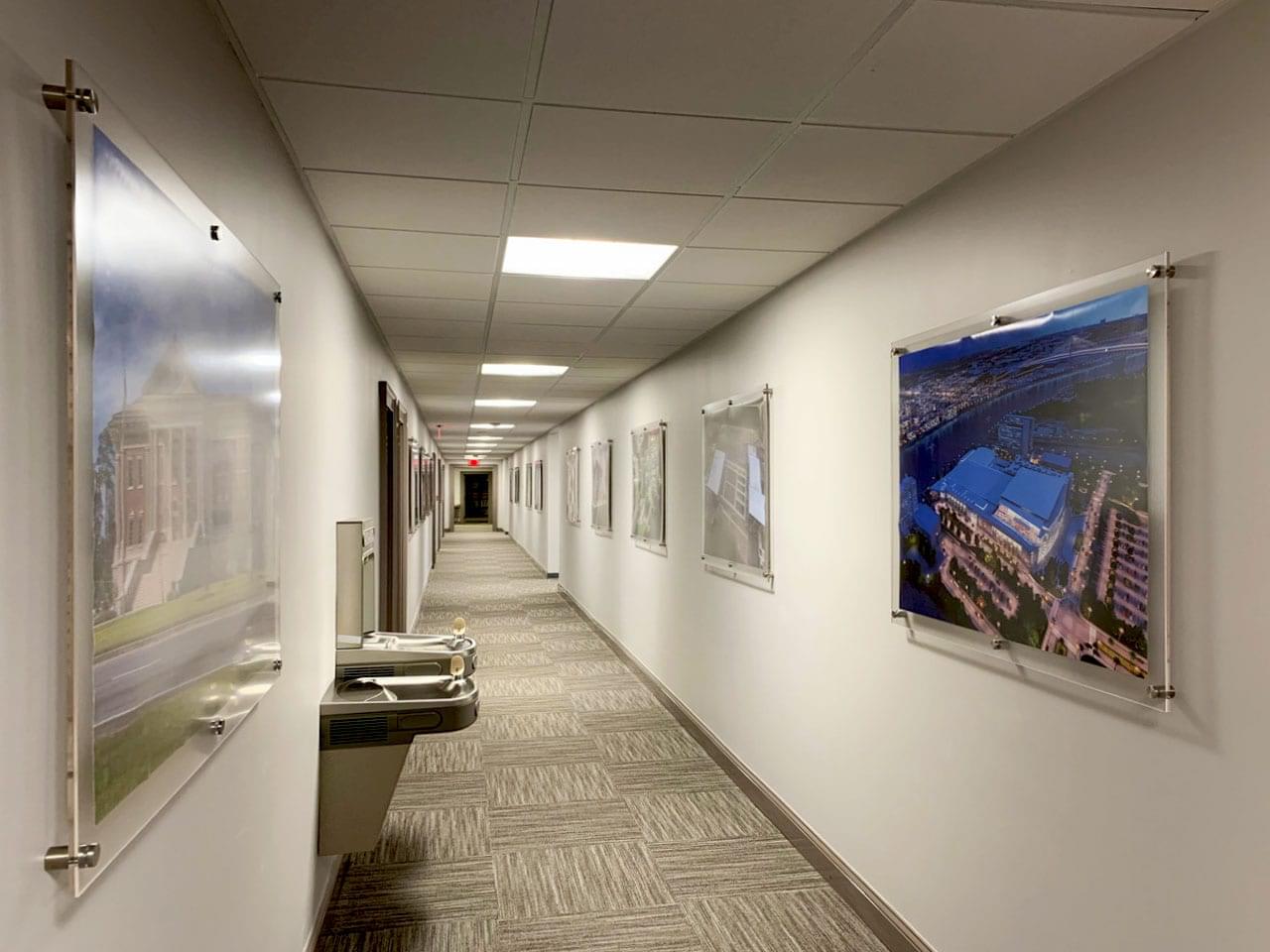 Acrylic Frames on Standoffs Displaying Large Photographic Prints
Laser-cut acrylic frames with non-glare front panel customized to display large format photography in a corporate environment. The display panels are mounted to walls using standoffs to allow for easy insert updates. Image courtesy of Hussey Gay Bell Co.
Acrylic Frames on Standoffs Displaying Extremely Large Photographic Prints
Custom oversized acrylic sandwich frames wall mounted on standoff supports. Frames are supplied with 1/4 inch clear acrylic back panel and 1/8 inch non-glare (non-reflective) front panel for rigidity. Image courtesy of Hussey Gay Bell Co.